With Vitaliy's Magic, Your Christmas Party Will Be the Talk of The Season!
When you're planning your next Christmas party, you want it to be a great time for everyone. Whether you're hosting a work party or a family get-together, the goal is to have fun with your loved ones.
But what if you could take it up a notch? What if you could make sure that your party was the best one yet? What if your guests would be talking about it for months?
If you want to make sure that your Christmas party is the most memorable one yet, then book Vitaliy's Magic! When I perform at your event, I will turn your dull work party into an absolute blast.
Whether it's a holiday party or just any old work gathering, I'll bring something special: magic! With my years of experience performing magic for audiences all over the world. My skills are extensive and varied—you won't believe what happens when I'm on stage doing my thing!
I've been performing professionally for years now and have worked with everyone from local organizations to international corporations. If you want to take your next event from good to great and make sure that everyone has fun—even those who aren't used to being entertained—then I'm the magician for you!
I specialize in close-up magic, which is ideal for any event where guests are seated at tables and can interact with me personally. I also have experience doing stage shows as well as larger-scale events that require more than one performer. I typically perform my magic at Christmas Parties in the Vancouver area, Richmond, Burnaby, Fraser Valley also on Victoria and Nanaimo Island, and many different cities in other provinces. If you planning on having your venue even further, I will be happy to consider traveling. So, whatever your needs, I can help!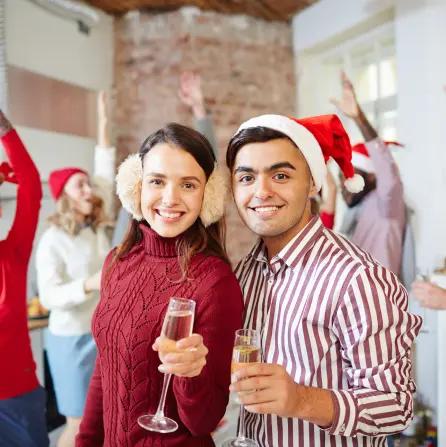 Make Your Christmas Party a Magical Experience with Me
There's nothing like a Christmas Party to bring people together. And what better way to celebrate the season than with a professional magician? I can make your Christmas party a magical experience! Whether you're celebrating with an office party, a family gathering, or even a class reunion, my close-up magic is an ideal way to get everyone involved. I'll come in, set up my props, and start doing some tricks right away.
People love being able to participate and be entertained at the same time—it keeps them engaged throughout the entire evening! And if you are not sure if my magical style would be a good fit for your party, enlisted are just a few types of groups that have enjoyed my close-up magic:
DRINKS RECEPTION/COCTAIL PARTY
Life is too short for boring parties. And the best way to make sure your event is fun and memorable is by hiring a magician. My close-up magic is perfect for mingling at your drinks reception because it's interactive and engaging and keeps everyone entertained while they're waiting for the main event!
My magic will also help set the tone of your party; if you're throwing one that's meant to be more laid back and casual, then my routine with playing cards will work great. But if you are having a formal affair, then I have a more sophisticated set of tricks and illusions that will appeal to your guests.
CHRISTMAS DINNER ENTERTAINMENT/XMAS LUNCHTIME PARTRY
When you're planning your Christmas party, you want to make sure it's the best one yet. And when it comes to entertaining, there's no one better than Vitaliy's Magic. Having served as a professional magician for over 20 years, I have hundreds of tricks and illusions that will keep your guests entertained from start to finish. My magic will be sure to impress everyone in attendance, whether they are children or adults! And with my personalized set-up, your guests will be able to see the magic up close and personal.
STAND-UP SHOW
Your guests deserve the best entertainment possible. And when it comes to stage shows, there is no better choice. I specialize in a variety of stage performances, from full illusion shows to close-up magic and even some magical comedy to bring a smile to your guests' faces!
I take pride in customizing my shows to fit the needs of your event, so whether you're looking for a stand-up show or something a little more intimate, you can count on me to make it spectacular!
LATE CHRISTMAS PARTY IN JANUARY
Ahh, I can see it now. Your guests are all wearing Santa hats and scarves, the Christmas tree is still up and decorated, and you're sitting around the fire with a hot cup of cocoa in your hand. It's January 25th, but that doesn't mean that there isn't still some holiday cheer to be had!
I can perform close-up magic for your party so everyone can get a chance to see what I'm talking about. Or, if you want something a little more grandiose, I can put on a full show that will have everyone in the room laughing and amazed at my sleight of hand!
WHY CHOOSE ME AS YOUR MAGICIAN FOR CHRISTMAS PARTY?
You know that something is missing from your Christmas party. You want to leave a lasting impression on your guests, but what can you do? The answer is simple: hire a magician! A good magician will keep your guests enthralled with his tricks and illusions, giving them something to talk about for months to come.
I can help you create an experience that your guests will never forget. I have over 20 years of experience performing magic, and I am ready to use my skills to make your event truly memorable! Whether you're looking for a stand-up show or something more intimate, you can count on me to make it spectacular! Contact me today to schedule a consultation—I look forward to hearing from you!
CONTACT ME TODAY
Don't let your event get lost in the crowd. Hire a magician to create an unforgettable experience for your guests! I have over 20 years of experience performing magic, and I am ready to use my skills to make your event truly memorable. Contact me today to schedule a consultation—I look forward to hearing from you!
Christmas Magician Packages
Your Christmas Party is a very special day of the year and the entertainment can be done any way you would like it to be, but from all the years performing sleight of hand magic at christmas parties, we would suggest one of these following options:
Magic entertainment during christmas party reception
Close-up sleight of hand magic (mix & mingle) to be performed during reception drinks, to keep the guests entertained. This helps to keep guests focused while the bride and groom are busy being photographed. Don't forget there are lots of people who won't know each other and this is absolutely the perfect way for breaking the ice and getting guests closer together. Duration 1 to 2 hours depending on the number of guests.
Magic during the christmas dinner
Close-up table magic is performed at each guest's table until the start of speeches. Duration 1 to 2 hours depending on the number of tables.
Close-up magic (walk around/stand up magic) to be performed after a meal
This would be magic performed to your guests as they are having post-dinner drinks/cocktails. Also perfect for your guests who are joining you for the evening party. Duration 2 hours, this options usually combined with Option 1 or 2 but can be requested on its own.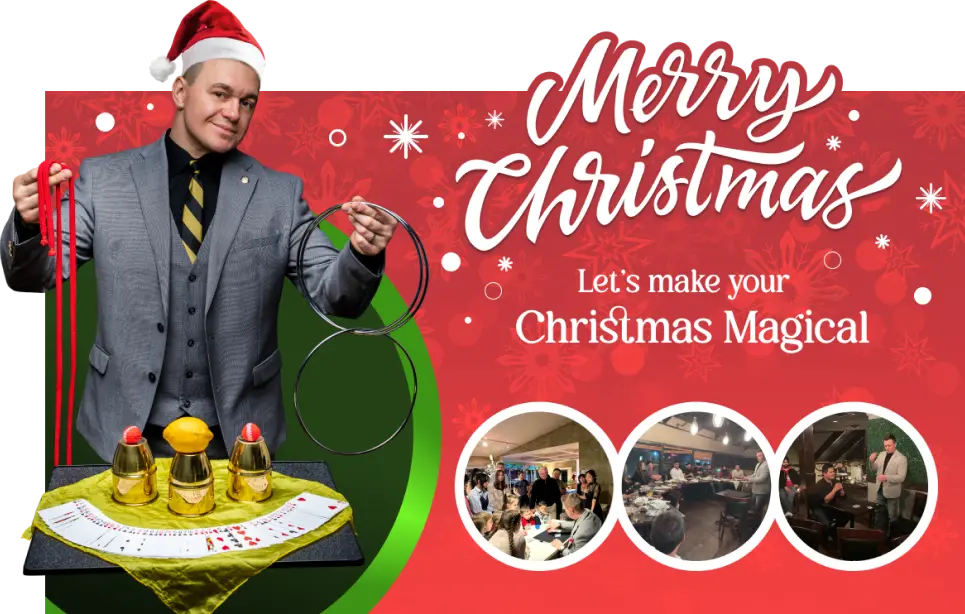 Testimonials
Wow! mind-blowing. … You are an absolute genius!
"This is unbelievable. I'm totally blown away "
"Fantastic, I'm totally blown away by Vitaliy Savchyshyn"
A new breed of a magician making magic cool again.
Frequently Asked Questions
Listed below are the frequently asked questions that the Vitaliys Magic team encounter on a daily basis.
Should you still have any other questions, please don't hesitate to contact us and we will happily reply at the earliest convenience.
Close-Up Magic is the form of magic that is performed right in front of your very eyes. Close-up magic is the hardest and the most direct form of magic out there. Close-up magicians have to be very precise with their slights since some of the tricks are done literally inches away from your eyes.
How long has Vitaliy been a professional magician?
Vitaliy has been practicing and performing magic for over 20 years now, and professionally for the past 15. Hours of practicing, watching videos, tutorials, reading books, and attending lectures got his sleight of hand skill to where it is right now. There are many magicians out there but not everyone can become a full-time professional.
What type of events does Vitaliy perform at?
Vitaliy will perform at any event as long as there is at least one person to watch him. Vitaliy performs at private parties, corporate events, award ceremonies, product launches, store openings, trade shows, and weddings.
Can I see a live demonstration before hiring Vitaliy?
Yes, Vitaliy will gladly meet with you for a free magic demonstration in order to give you the opportunity to experience first-hand his mesmerizing skills.
How much does the show cost?
Show rates vary depending on the season, number of audiences, dates, and duration of the performance. Please contact Vitaliy for more information and to get a quote
What are the payment methods?
Payment can be received by anything cash, cheques, or e-transfers.
How many hours is Vitaliy's show?
The length of the performance varies based on your event's needs.
Does Vitaliy require any special setup?
No. Vitaliy's show is completely self-contained meaning he does not require a special set-up, making it easy for you.
Does Vitaliy perform internationally?
Yes, please contact us to find out more about the booking requirements for an international event.
Where is Vitaliy from and what languages does he perform at?
Vitaliy performs in English, Ukrainian and Russian. This makes it very convenient when he performs at a big traditional Eastern European wedding with elderly guests who have difficulty understanding English.
Does Vitaliy perform at kid's parties?
Usually, Vitaliy performs for crowds older than 13 years of age, but he has done many parties that had children and those children were as impressed as the adults were.